The Saudi Food & Drug Authority (SFDA)
The Saudi Food & Drug Authority (SFDA)
Partners
The Saudi Food & Drug Authority (SFDA)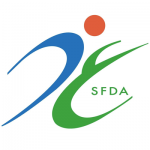 The Saudi Food and Drug Authority ("SFDA") established under the Council of Ministers Resolution No. (1) dated 07/01/1424 H, is an independent body corporate that directly reports to The President of Council of Ministers.
Pursuant to its mandated objective and purpose as gleaned from the Ministerial Resolution creating the Authority, the SFDA's mission is "to ensure the safety of food; the safety, quality and efficacy of drugs; and the safety and effectiveness of medical devices, by developing and enforcing an appropriate regulatory system."
The main purpose of the SFDA establishment is to regulate, oversee, and control food, drug, medical devices, as well as to set mandatory standard specifications thereof, whether they are imported or locally manufactured. The control and/or testing activities can be conducted in the SFDA or other agency's laboratories. Moreover, the SFDA is in charge of consumer's awareness on all matters related to food, drug and medical devices and all other products and supplies.
KAD had a good relationship with the SFDA with cases of counterfeit and infringing matters and solving the cases successfully under the inspectors of SFDA.
For more information about the SFDA and their activity, please check the following link: www.mci.gov.sa